Baker Team will be USA1 for the 2019 Venice Cup
Congratulations to Lynn Baker-Karen McCallum, Irina Levitina-Kerri Sanborn, Beth Palmer-Sylvia Shi, Sam Dinkin NPC, who convincingly defeated the Disa Eythorsdottir team by 90 IMPs over 105 boards, after which the Disa team withdrew.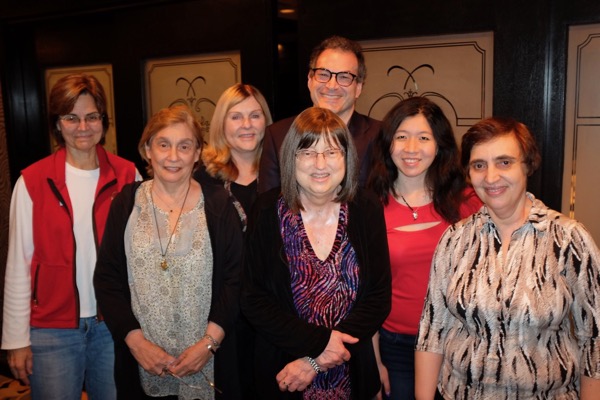 Lynn Baker, Karen McCallum, Kerri Sanborn, Beth Palmer, Sam Dinkin, Sylvia Shi, Irina Levitina, photo by Stan Subeck
Details
2019 Open USBC Starts Friday
The 2019 Open USBC will be held in Schaumburg, Illinois, starting on Friday, May 10th. May 10th & 11th are a Round Robin, with 16 teams, 13 of whom will advance to the Round of 16 on Sunday, May 12th. We do not cover the Round Robin on Vugraph for security reasons, but you can find the scores at https://usbf.org/docs/vugraphs/USBC2019/RRsheet.php. Scores will be posted after each round, as promptly as we can manage.
You can find all of the information about the USBC under the USBF Tournaments menu, but here are some useful links to get you started:
Teams Entered with links to system forms and team profile pages. There is no Nickell team because this event chooses USA2 for the 2019 Bermuda Bowl and Nickell won the 2018 USBC to become USA1.
Details
Billy Rosen - 1928-2019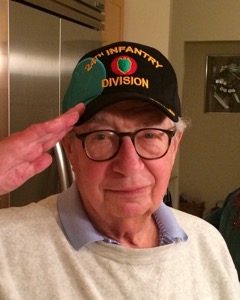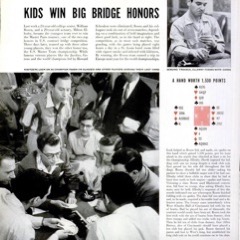 William Albert Rosen, 90, of Highland Park, IL, beloved husband of Eunice, passed away in April.
Billy started playing bridge when he was a student at DePaul University in Chicago. He and partner, Milton Ellenby, were featured in the August 1953 edition of Life magazine as the youngest winners of the von Zedtwitz Life Master Pairs.
His restless spirit, analytic mind, and gambler's heart propelled him to victory at the 1954 Bermuda Bowl World Bridge Team Championship at the age of 25… the youngest player to achieve such a title and a record he held until 1981.
In a bridge column in September, 1954, in Playboy Magazine, Billy was quoted as saying, "The game holds a beguiling interest to most people because it is undoubtedly the most challenging of all card games, combining skill in bidding, play of the hand, and also, the subtle art of gamesmanship." The New York Times called him one "of the greatest names in the game."
Billy was inducted into the ACBL Hall of Fame in 2014 as a recipient of the von Zedtwitz Award. He will be remembered as a brilliant gentleman at the table, missed sorely by those whose lives he touched.
Details
Richie Schwartz - 1941-2019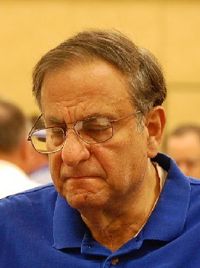 We were saddened to hear of the death of Richie Schwartz on Thursday, February 7, 2019. Richie was a regular at USBF events, and represented the USBF in the 2012 Senior World CHampioinship, where his team won the Silver medal.
We'll all miss you!
Details