2006 USBF ELECTION - Nominating Committee Slate
Three members of the USBF Board of Directors will be elected in 2006. Each will serve a three year term starting January 1, 2007.
The USBF Nominating Committee has nominated the following people for the three seats:
Athlete seat: Bill Pollack (incumbent)
Active Member seats: Bob Hamman (incumbent)
Joan Gerard
In accordance with the USBF Bylaws as clarified in the Election Procedures, additional candidates may be added to the slate by petition, as follows:
4. Petition Candidates
Active Members in good standing may be added to respective Active or Athlete ballots by petition. A valid petition application form requires ten (10) Active Member signatures from the category in which the candidate is running. Petitions must be received at USBF headquarters no later than ten (10) days prior to the ballot mailing date.
The ballot mailing date is December 1st, so the last day to submit a nomination Petition is November 21.
If there are no petition candidates, the three candidates nominated by the Nominating Committee will be elected without need for mailing and return of ballots.
The Election Announcement provides further information on the election. The Timeline for the election sets forth relevant dates. All 2006 USBF Active Members are eligible to vote.
Details
World Junior Championship
USA 1 WINS GOLD!!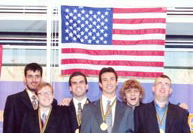 Josh Donn, Jason Feldman, Ari Greenberg, Joe Grue, John Kranyak, Justin Lall, with Bob Rosen, NPC, are the 2006 World Junior Champions. For Greenberg, Grue, Kranyak & Lall, this is a back to back win - they also won in 2005. Donn & Feldman were playing in their first World Junior Championships. Congratulations all.
Go to the official website and final bulletin with a picture of the winners for more information, see the scores for Semi-finals and Finals in USBF Scorecard format; click on a segment score to see board by board data.
Details