Updated Website
Although I hope that this website looks the same to you, it's actually very new, running under version 3.3 of Joomla (our website management software). To put that in context, we were previously running under version 1.0, which we installed way back int 2006 when Kitty Cooper set up this website for USBF. We're actually very lucky that nothing has blown up in the last few years, when we've been running on pretty antiquated software
. Be that as it may, we are now running with up to date software, which will undoubtedly involve a few hiccups along the way. The new software also involves a few changes to things that I'll try to explain here.
Dues Payment
Our old website used some custom software, along with a fair amount of hands on manipulation by me to handle dues collection. In connection with this move, we've installed a Plug In called Membership Pro that I hope will make dues payment easier for me without making it harder for you, at least after you get things set up. Under Membership Pro, you need to choose a Dues Plan (available ones are Pay Dues, which is a 1 year, $50 payment plan; Pay Dues in Advance, which is paying for 3 years for $130; Pay U21 Dues, which is for those of you who are Under 21 years old and costs $15 for one year; Pay U26 Dues, which is for Under 26 members and costs $25 for one year. I hope that soon those of you who are not eligible for the U21 and U26 plans won't see them, but right now you will - anyone who isn't the appropriate age who tries to sign up for one of those will be put on my "naughty" list, which means you'll be the last person I help when you have a problem.
Setting Up Dues Payment
If you have already paid dues for 2016, you've been rewarded for doing so by having me set everything up for you. All you will need to do is "renew" your dues payment when your membership expires - you'll get an email from Membership Pro (it will probably say from USBF) early in December of the year in which your membership expires telling you that you need to renew and providing instructions for doing so. I very much hope those instructions will be easy to follow.
If you have not yet paid dues for 2016, you have to do the work of setting up your "Dues Plan." To do it, log in to the site and click on "NEW DUES PLAN" under the User Menu (if you don't see the User Menu, you forgot to log in). That will take you to a page where you can select the 1 year or 3 year plan. Selecting one will take you to a form where you enter your payment method:
-- Pay by Credit Card, which will take you to a PayPal page where you enter your credit card information, or use a PayPal account if you have one and want to use it;
-- Pay by Check, which will set up your dues plan, but not activate your membership until you send in a check, at which time I will activate your membership.
For those of you who like to pay your dues in person, you can still do so - follow the procedure above and select "Pay by Check" and then pay in person and I will activate your membership. If you want me to do everything, I think I'll charge a suitable fee in chocolate for doing it.
Renewing Each Year or 3 Years
When you receive an email saying you need to renew, it should be easy. If you want to continue to pay under the same plan you last used, you log in, click on "RENEW" under the User Menu and select the plan you used, the click on Process Payment, which will take you to the form to choose between Pay by Credit Card and Pay by Check.
USBC Stuff
Entries
You can now enter the Open, Women's, Senior or Mixed USBC. Just log in to the site and click on the appropriate menu item under the User Menu. That will take you to an entry form which looks pretty much the same as it did before. Fill it out, click on "Submit" and then use the PayPal button to pay the advance entry fee, or follow the instructions to pay by check. If your team includes people who are not yet registered on this site, you can write their names into the entry form, but then they have to register & pay dues before they can play. You will no longer be warned when there are people on your team who have not paid their dues, but eventually (reasonably soon) there will be a list you can access of people entered in a 2016 USBC who have not paid their dues, and as usual, as the time for your event gets close, I'll send you and the player who hasn't paid dues an email to remind you. The entry process also no longer checks to make sure that someone isn't named on more than one team - that seemed to cause more problems than it solved. If I see someone on more than one team, I'll email them about it.
Team Lists
You can access the list of teams entered in each of the USBCs by clicking on the event you're interested in under the USBF Tournaments Menu and then on "teams entered."
System Forms
We're still working on the System form software. In another week or so you'll be able to complete system forms as you have in the past, with a couple of improvements:
-- if you're copying an old System Summary Form, the default will be to retain your previous partner on the form, so you won't have to edit the form to add your partner unless you have changed partners.
-- you will be able to upload your ACBL convention card, or a link to a Bridge Winners convention card when you complete your SSF, instead of having to email the convention card or link to me and having me upload and link it. I'm keeping my fingers crossed on this one, because it will save me a lot of time without making any more work for you, as long as it works!
Everything Else
When something doesn't work as you expected, please This email address is being protected from spambots. You need JavaScript enabled to view it. about it - give me as much information as you can (what were you trying to do, what does the URL bar look like, that sort of thing).
If there's something you'd like to see on the site and can't find, This email address is being protected from spambots. You need JavaScript enabled to view it. and I'll put it on the "wish list."
Please be patient; it's taken almost 2 years to get this far and I know things won't be completely smooth, but I hope in the end this website will remain stable for another ten years.
Please take a moment when you're logged in to click on "Your Information" under the User Menu and check that your email and snail mail addresses, phone number(s), gender, birth year and status are correct. Some of those fields got messed up when we moved member information from the old software to the new. We've tried to fix things, but I'm sure there are some mistakes.
Nice Feature I Just Found

If you want to look at a sub-menu under one of the main menus, you can click on the light grey + next to the menu name and it will open the sub-menus without taking you to a new page. Before, you had to click on the main menu title and that would both take you to a different page and open the sub-menus, but you'd have to scroll down the page to get back to where you had clicked on the main meny title in order to get to the sub-menus. Probably I'm the only one who spends a lot of time getting to the "Teams Entered" sub-menus under each of the USBC main menu items, but if you're going to do that, clicking on the + instead of the menu title makes it a lot faster and easier.
Jan Martel
2016 U16 Team
The USBF Board has approved the Under 16 ("Kids") team for the 2016 World Youth Teams Championship. All 6 plaeyrs on the U16 team played in the U21 division at the 2015 Junior USBC, 4 of them on the Hu team and the other 2 on the Koppel and Zhan teams. They are:
Suzanne Campbell - Rory Xiao
Michael Hu - Arthur Zhou
Cooper Smith - Kunal Vohra
Because the 6 players didn't compete on one team in Atlanta and we didn't know which 6 players would be selected for the Under 16 team, we don't have a team photo, but we do have a photo of the Hu team, which includes the two players who are too old to compete in the U16 event, and individual snapshots of Cooper Smith& Kunal Vohra :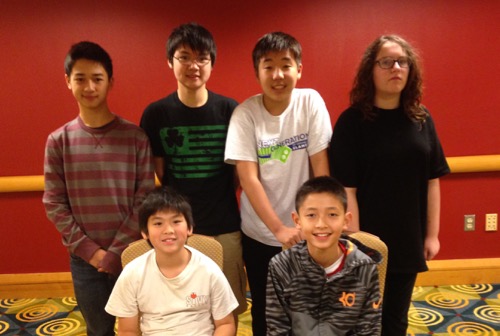 Hu Team - Back row, left to right, Kevin Huang-Brent Xiao (too old for U16), Michael Hu, Suzanne Campbell. Front row: left, Rory Xiao; right, Arthur Zhou
Good Luck to the USBF's first-ever Under 16 team in Salsomaggiore this summer!
CONGRATULATIONS TO PATINO USA2 AND DAMIANI USA1 TEAMS
Congratulations to the Herman team, who won the Under 26 USA2 Final in convincing fashion, 197-117, and to the Soukup team, whose final margin of over 100 IMPs was even more impressive. Good luck to both teams in Italy next year!
The Soukup team will add a pair and represent the USBF in the Damiani Cup competition (players under 21)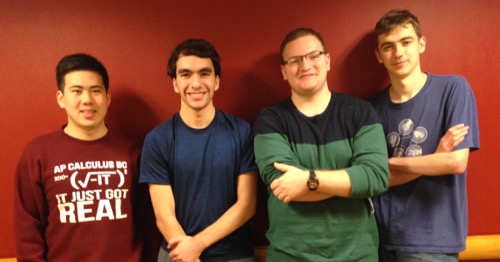 Nolan Chang, Hakan Berk, Isaac Stephani & David Soukup
The Herman team will be USA2 for the Patiño Cup competition (players under 26)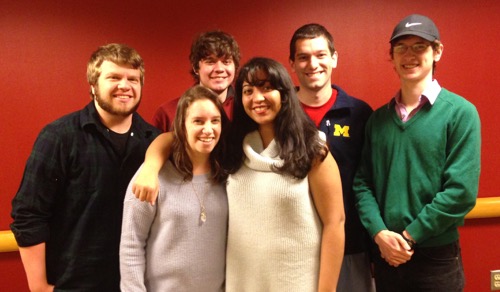 Front: Julie Arbit & Anam Tebha; Back: Christian Jolly, Greg Herman, Jordan Kaye & Oren Kriegel
Good Luck To All of our Junior Teams!!