USBCs POSTPONED
Although the WBF has not yet officially postponed the 2021 World Championships, the EBL has canceled the 2021 European Team Championship because of travel restrictions in Europe that are expected to continue through the summer. The USBF does not expect to be sending teams to a World Championship in August of 2021, and has therefore postponed the USBF Selection Trials (USBCs).
We don't know when the WBF will hold the 2021 World Championships, so it is difficult to establish dates for the USBCs that would give the qualified teams time to make plans and also have the USBCs as late as possible, when more people will be vaccinated. We recognize that people need to make plans even in these uncertain times. Therefore, we will hold the face-to-face stages of the USBCs either in August or October, unless the WBF completely cancels the 2021 World Championships. As soon as we have had an opportunity to discuss space availability with our host hotel in Schaumburg, we will post proposed schedules for August and October face-to-face stages, recognizing that only one set of dates will apply. We will also post starting dates for online stages, if those are needed.
Entry deadlines for the 2021 USBCs have all been extended to June 6. If the face-to-face stages are held in October, the entry deadlines will be further extended.
Thank you all for your patience with the uncertainties of this. We wish we knew more.
Details
JLall3 Round Robin Divisions
Here are the divisions for JLall3 Round Robin (in alphabetic order)
Moderna

Pfizer

Bishel

Bitterman

Carmichael

Dawson

Kolesnik

Lin

Lo

Merblum

Moss

Nickell

Onstott

Parker

Rasmussen

Reynolds

Rosenthal

Baker

Donnelly

Donner

Goodman

Hinze

Jacobs

Joel

Lall

Levine

Martel

Robinson

Rockoff

Schireson

Smith

Zhang
Details
Curtis Cheek Discipline after Negotiated Resolution
USBF DISCIPLINES CURTIS CHEEK AFTER CONFESSION OF CHEATING IN INV-1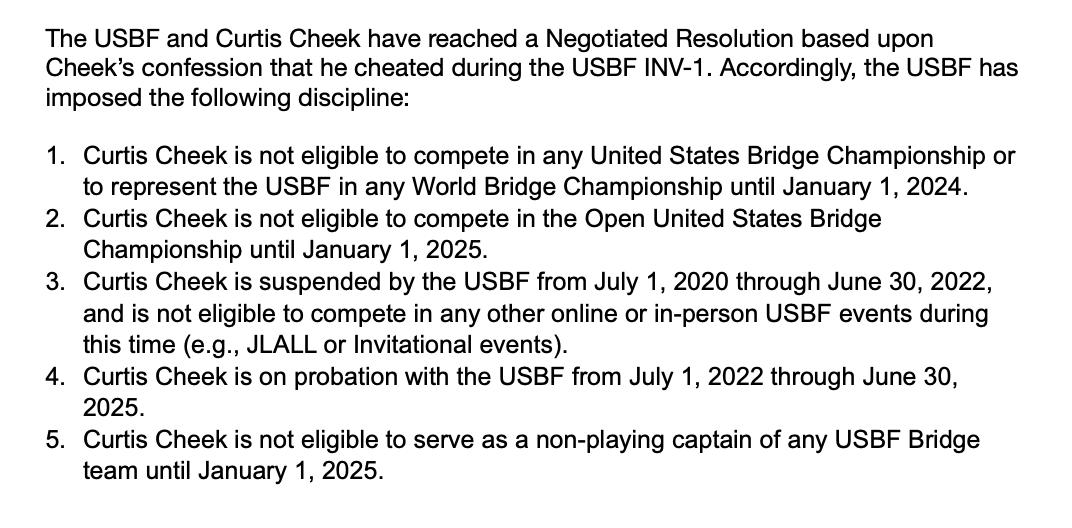 CURTIS CHEEK'S CONFESSION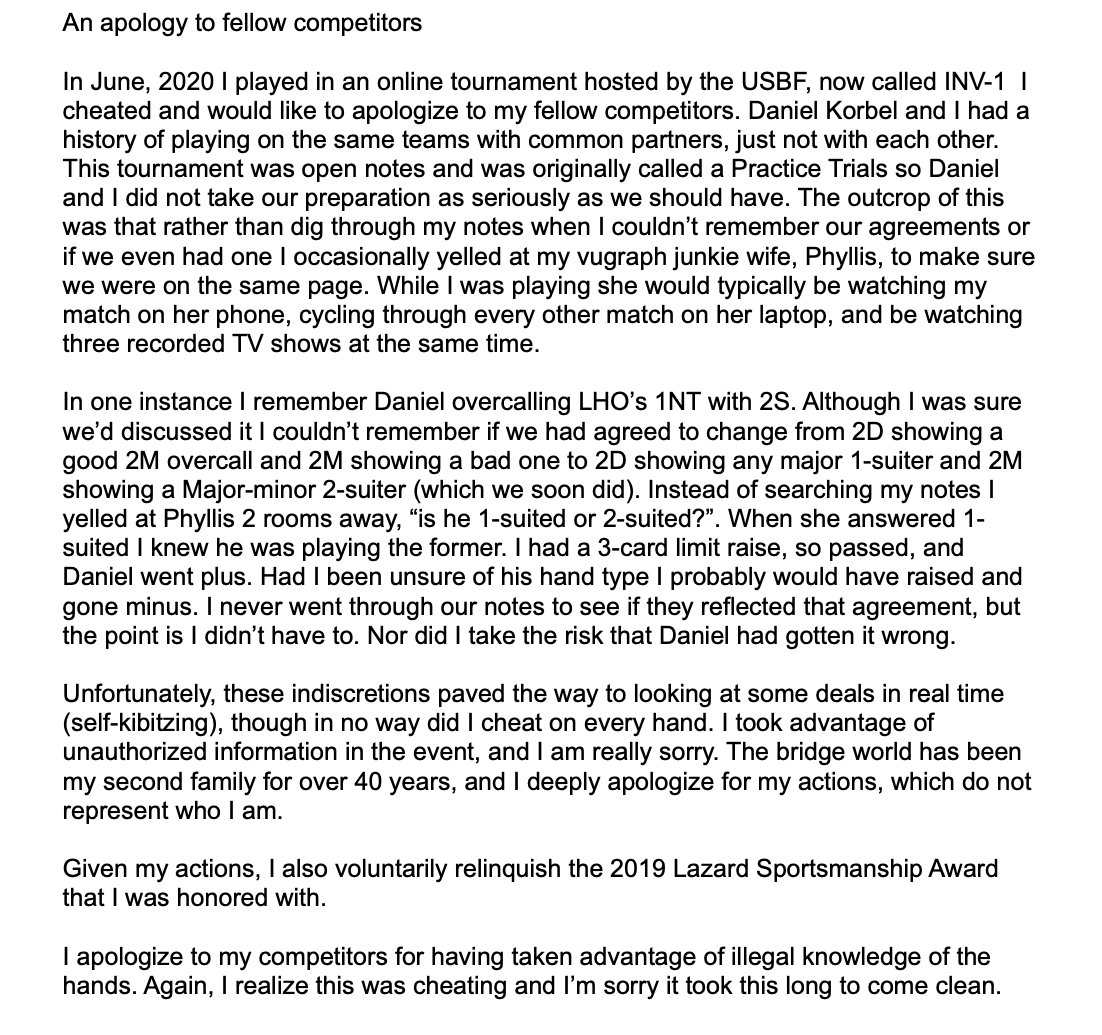 Details
2021 USBC Formats and Schedules
In the event the WBF cancels or postpones the 2021 World Teams Championships at any time before the commencement of the USBCs, all USBF Selection Trials will be canceled or postponed.
Overview of Formats and Schedules
For all of the events, the Round Robin and Round of 16 stages will be played online;
The Women's (if more than 4 teams enter) will start on May 5th; the Open will start on May 7th; The Mixed will start on May 15th; the Seniors will start on May 23rd. Each event will be played on consecutive days. Click here for the full online schedules (note there are two possibilities, depending on the number of teams entered in each event; the schedules might change if there is a surprisingly large or small entry in any event, but the starting dates will remain the same).
Any team that does not qualify for the Quarterfinal stage will be eliminated.
The face-to-face format of USA1 and USA2 events will be (click here for the full calendar):
Entry fee will be $500 per team for the online stage of each event. Online play will be on RealBridge, using virtual screens and self-alerts. For online play only, players will be allowed to consult their notes during the bidding.
The Hyatt Regency in Schaumburg, IL. is host to all the face to face stages, where the entry fee will be $400 per team per day. Playing will be on individual tablets assigned to each player using the LoveBridge software.
There will be 2 players (normal screenmates) in each playing room.
When available, playing rooms will have outdoor access.
The USBF will take precautions to prevent the spread of Covid-19 which may include taking temperatures, wearing masks and sanitizing surfaces.
We will be unable to offer our usual hospitality due to CoVid restrictions.
Teams that play only 3 days online will receive a credit of $200 for future 2021 JLall entry fees; teams that play only 4 days online will receive a credit of $100 for future 2021 JLall entry fees.
Entering more than one event
A player may enter as many events as the player is eligible for (so a woman who is at least 62 can enter all 4 events if she wants to; a man who is at least 62 can enter all but the Women's; women under 62 can enter the Open, Women's & Mixed; men under 62 can enter the Open and the Mixed). If a player enters more than one event, the player must notify the USBF Secretary no later than May 1 which World Championship event s/he will enter if s/he qualifies for more than one (players in the Open must designate the Bermuda Bowl as the World Championship event in which they will compete). A player who qualifies for the Bermuda Bowl is not eligible to compete in the face-to-face stages of any other USBC.
Entries are now open for all of the events and will close as follows:
Women's - March 31, 2021
Open - April 2, 2021
Mixed - April 10, 2021
Seniors - April 18, 2021
Details