CONGRATULATIONS TO JLALL6 WINNERS - FERRO
After an exciting Final match that ended in a tie, requiring a 6-board playoff, FERRO (Ferro-Holtz, Gumperz-Rathi, Ornstein-Rogoff) defeated LALL (Lall-Clayton, Bramley-Woolsey) by 7 IMPs. Congratulations! The Playoff boards are not yet available on the RealBridge kibitz site, but they are available here.
JLall7 will be this fall, after the Summer NABC and the World Championships - as soon as we have dates and format available, we'll post information. Meanwhile, if you've played in a JLall event, you will get a link to a poll about future JLall events - we'd appreciate your feedback.
Details
Junior Battle on RealBridge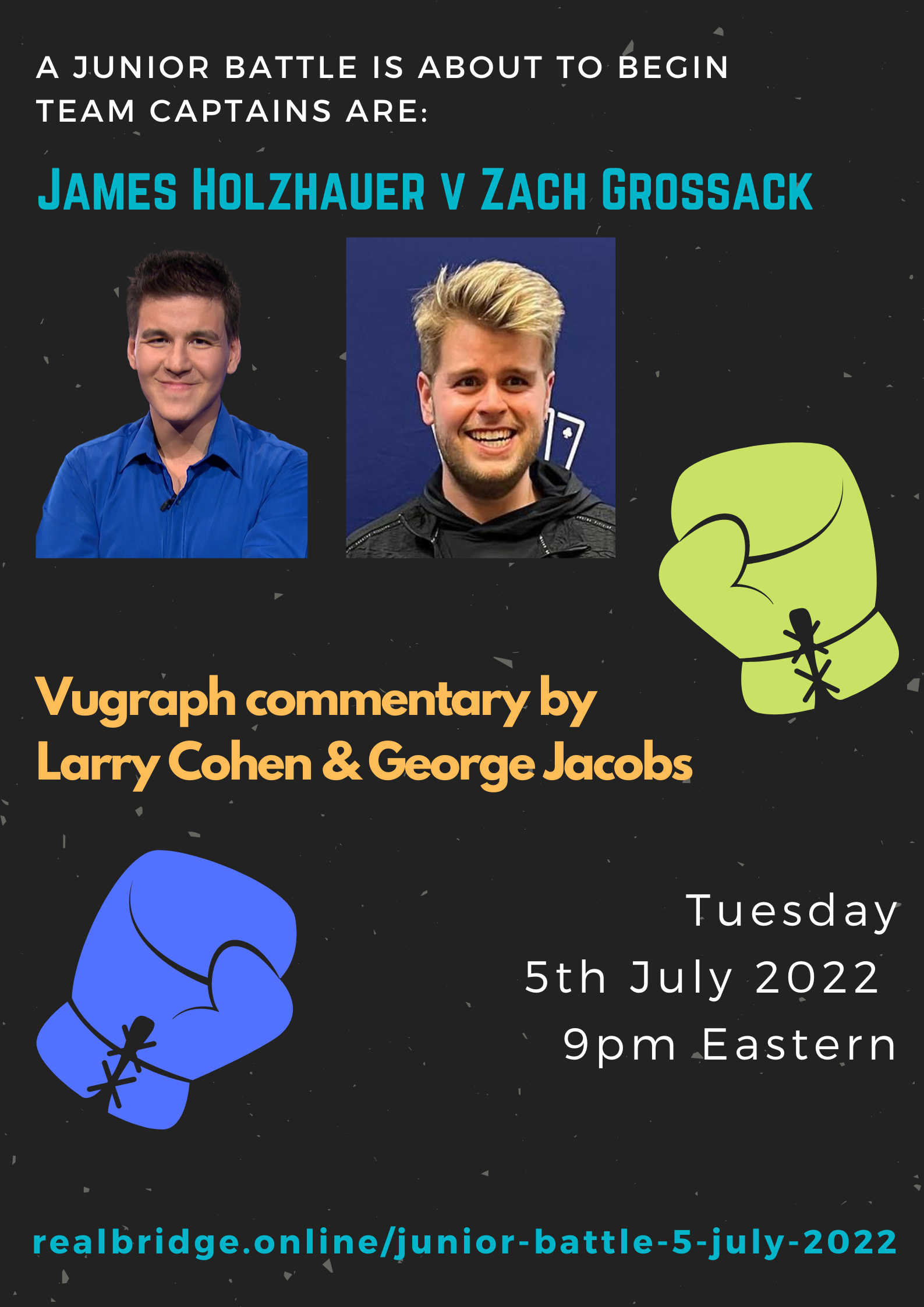 A great opportunity to see juniors in the USBF junior training program take part in an exhibiton match.
James Holzhauer (of Jeopardy! fame), and Zach Grossack each captain a team. Commentators are international stars of the game, Larry Cohen and George Jacobs. They will comment live on RealBridge. You will be able to ask them a question in text or in video.
What system are they playing? All players are playing the same standard 2/1 system, but will they bid the same way? Once the players have settled on the team convention card, you will be able to see it by clicking here.
How do you watch? Click kibitz.realbridge.online No account is needed, just put your name in and join the event.
James' team:
Ethan Wood: "I am a 20 year old bridge teacher and playing professional from Massachusetts currently studying aerospace engineering at Purdue University. After college I plan on entering the aerospace industry but I hope to continue playing and promoting junior bridge. Outside of school my other interests include playing tennis, golf, poker, piano and violin."
Luke Williams: "I am a 21 year old who grew up in San Diego and recently moved to Seattle. My grandparents taught my brother and me to play bridge when I was 9 and he was 12, and we've played together ever since. I'm entering my senior year at Pomona College where I study politics and psychology."
Reese Koppel: "I study behavioral economics and data science at Yale. Besides bridge, I dabble in chess, music production (both house music and engineering beats), tennis and golf. I love reading and watching my hometown New Orleans Pelicans and Saints. Within the bridge world, I was the 2018 ACBL King of Bridge, I serve as a trustee on the ACBL Educational Foundation and I have coached bridge both at Yale as well as privately."
Zach's Team
Michael Xu: "Five days from now I'll be 19. I grew up in the Bay Area, California, and I currently study mathematics and computer science at Amherst College. I am not sure of what I want to do in the future, but currently quant trading and software engineering seems intriguing. My bridge goal is to win a big event with my mentor, Michael Rosenberg."
Jake Williams: "My brother and I learned to play together in San Diego. I attended Harvey Mudd College where I competed collegiately in both bridge and tennis. I am now 24 and attending the University of Chicago, where I am working towards a PhD in Computer Science, focusing on machine learning and inverse problems."
William Scott: "I graduated from Tufts University in 2021 and am now a software developer in the healthcare industry. I learned to play bridge at age 12 but started playing more seriously in 2019, and my favorite contract to declare is four hearts (one notrump is a close second). Outside of bridge, I enjoy distance running and following the NBA."
Details
2023 USBCs format
The USBF Board has decided to hold the face to face stages of the 2022 Junior USBC and the 2023 USBCs using LoveBridge. Given the positive response in 2021 and 2022, the USBF foresees using an electronic environment for a minimum of another year. We will be working with LoveBridge to solve some of the problems players have encountered, and welcome your suggestions for improvements.
Some things we have already done are:
Arranged for the hotel to provide larger, taller tables in all of the playing rooms.
Arranged for LoveBridge to improve the method of entering explanations, including developing a method for players to save frequently used explanations so they can just click once to repeat an explanation.
Started to explore the use of Chromebooks instead of tablets. If that is not possible, we will have external keyboards and mice for all players.
Started work on a revision of the Time sections of the General Conditions of Contest to clarify the use of electronic timing. We may ask LoveBridge to change some of the details of time-keeping, probably allowing some time to be "neutral," not assigned to either pair.
Details
CONGRATULATIONS TO SPECTOR USA1 FOR THE 2023 BERMUDA BOWL
After a hard-fought Final match in the 2022 Open USBC, SPECTOR (Warren Spector-Gavin Wolpert, Kevin Bathurst-John Hurd, Vince Demuy-John Kranyak) had a blazing finish to defeat NICKELL (Nick Nickell-Ralph Katz, Eric Greco-Geoff Hampson, Bobby Levin-Steve Weinstein) 224-192. SPECTOR will be USA1 for the 2023 Bermuda Bowl and Nickell will have another chance in the 2023 Open USBC, which will select USA2.
Spector Team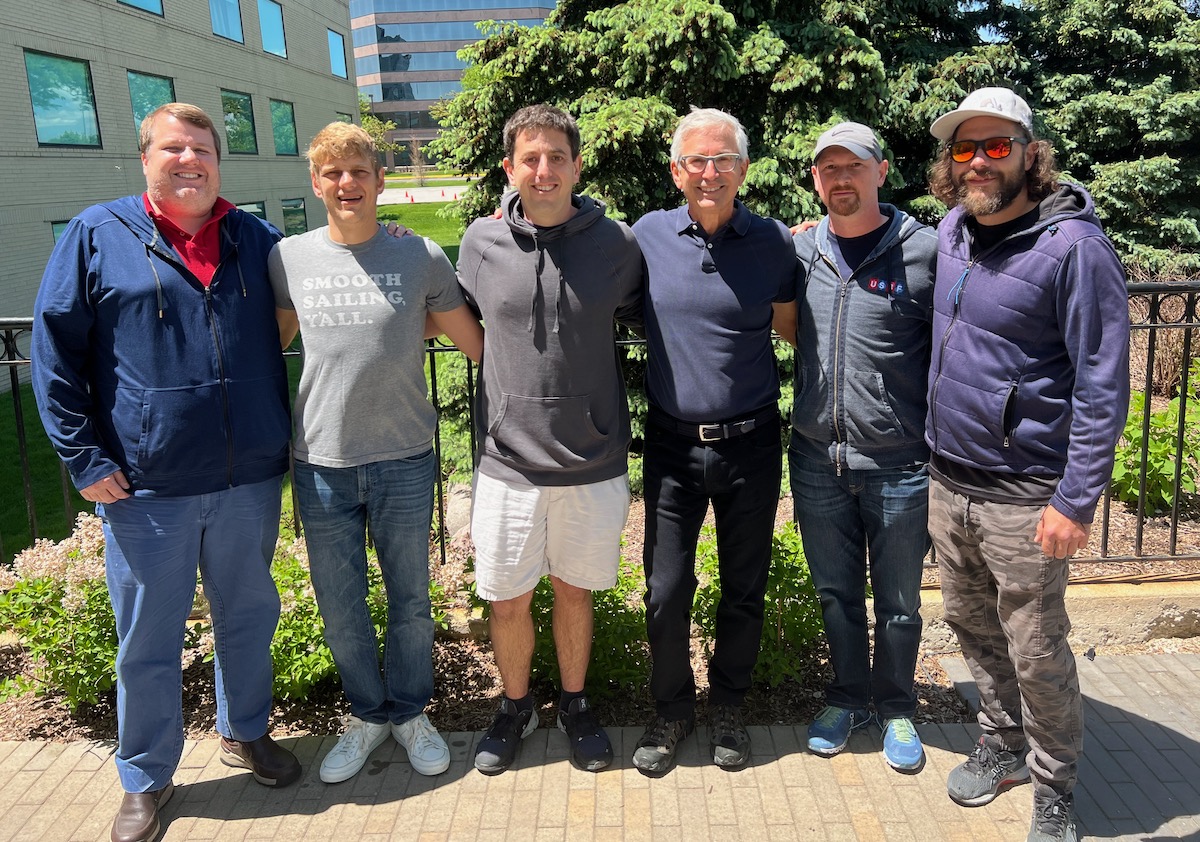 John Hurd, John Kranyak, Gavin Wolpert, Warren Spector, Kevin Bathurst, Vince Demuy. Photo by Stan Subeck
GOOD LUCK in Marrakesh!!
Details