Congratulations to the Feldman Team
Feldman wins first JLall Online Teams
Congratulatios to Jason Feldman-Jerry Stamatov, Mark Feldman-Adam WIldavsky and Walter Lee-Frank Merblum! They took what looked like a commanding lead in the third quarter, but saw it dwindle to nothing over the first 9 boards of the 4th quarter, then turned it back around to win by 18 IMPs over Levine (Mike Levine-Eddie Wold, Mark Lair-Mike Passell, Jeff Meckstroth-Eric Rodwell).
Celebrating on Zoom: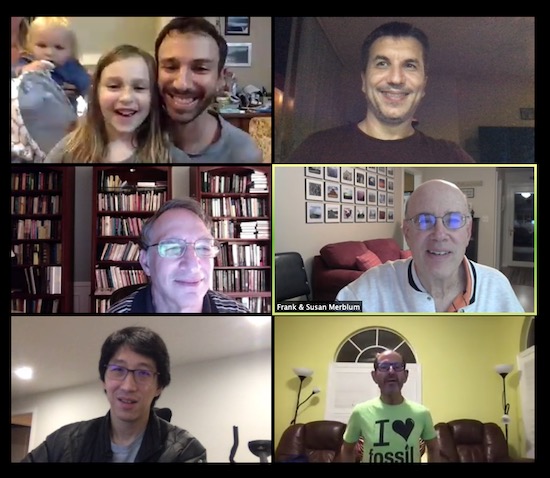 Top - Jason Feldman with Abigail & Everett, Jerry Stamatov
Middle - Mark Feldman, Frank Merblum
Bottom - Walter Lee, Adam Wildavsky
Details
Transatlantic Senior Teams - Julian Klukowski Trophy
The Polish Bridge Union and Canadian Bridge Federation are sponsoring an online Senior tournament January 16-February 7. Not all details have been worked out, but their invitation email has this information:
Invitation Letter
We received the formal invitation letter, which has some additional details, on Nov. 22nd.
Participants
All WBF NBOs in Europe, Africa, North America, South America and the Caribbean have been invited to send teams. Each NBO can enter one or two teams, the USBF can enter three teams.
Each team can have any number of players. Each player must have been born before 1960 (be a WBF Senior).
Schedule:
January 18-23 and 25-30: Swiss, 1 20-board match per day every day except Sunday, starting at 2:00 pm EST.
January 31-Februrary 1, Round of 16 if needed. February 2 to Februrary 7, KO: Each match is 4 12-board halves, played over 2 days. If no more than 32 teams enter, 8 teams will qualify for the KO. If more than 32 teams enter, 16 teams will qualify for the KO.
Also, February 1-7, Swiss continues to determine 3rd place - KO losing teams drop in after each round of the KO.
Details, Entry Deadline, & Entry Fee
Play will be online, probably on BBO
TDs will be from Poland; all will speak English and at least one will speak Spanish
Entries are due by December 7th; the USBF has told the organizer we will enter 3 teams
Team rosters are due by the end of December.
The entry fee is $300 per team.
USBF Selection Procedure
Teams that represent the USBF in this event will pay their own entry fee.
You can now enter on this website. You must be logged in to enter. When you are logged in, click on "Enter Transatlantic Senior Qualification" under the User Menu. That will take you to an entry form on which you can enter 4-6 players. If you want to enter more than 6 players,

This email address is being protected from spambots. You need JavaScript enabled to view it.

and she will add the additional ones. All players must be USBF Active Members and must have been born before 1960.
There are now ten teams entered, so we will hold a 3 or 4 day selection event on RealBridge between Dec. 8 & 20 at dates and times to be selected based on a vote of the teams. The format of the event will be a complete Round Robin, with the number of boards in each match determined by a vote of the teams. There will be very limited play requirements, and system requirements will be just submission of an electronic convention card. Details will be worked out after we know how many teams there are. Entry fee for the Qualification event is $150 per team to cover our costs for a director and RealBridge.
Details
Congratulations and Welcome to New USBF Board Members
The date for filing nomation petitioms for the 2020 USBF Board election has now passed, so the Nominating Committee slate of 2 candidates has been elected. Congratulations and Welcome to Aaron Silverstein and Sheri Winestock, who will each serve from January 1, 2021 through December 31 2023.
| | |
| --- | --- |
| Aaron Silverstein | Sheri Winestock |
| | |
Details