2013 USBF Board Elected
Details
Congratulations to Cheri Bjerkan, Bob Katz & Howard Weinstein, who were elected to serve three year terms on the USBF Board of Directors, starting on January 1, 2013. The three were nominated by the USBF Nominating Committee, and there being no petition candidates, they were elected without need for voting. The full Board in 2013 will be:
Cheri Bjerkan
George Jacobs
Bob Katz
Ralph Katz
Sylvia Moss
Howard Weinstein
Jonathan Weinstein


2012 WMSG - Silver for USA in Seniors
Details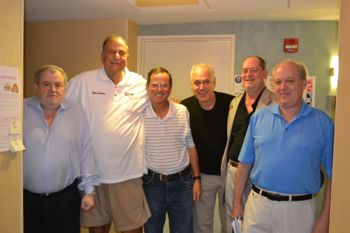 2012 Senior Silver Medalists: Sam Lev, Richie Schwartz, Lew Finkel, John Schermer, Neil Chambers, Steve Landen (Phillip Alder, NPC not in picture)
Congratulations to the USBF Senior Team on winning the Silver Medal in the 2012 World Mind Sports Games in Lille, France.
KYLE LARSEN - 1950-2012- WE'LL MISS YOU
Details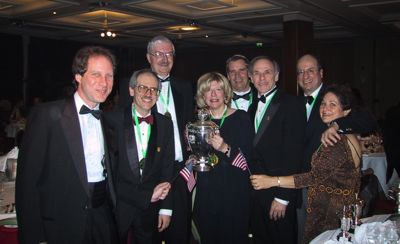 2001 Bermuda Bowl Team: Coach Fred Gitelman, Chip Martel, Lew Stansby, Rose Meltzer, Kyle Larsen, Peter Weichsel, Alan Sontag, NPC Jan Martel
We have received the sad news that Kyle Larsen died in the night on Aug. 21st. We know that all of you will miss him at future USBF and ACBL tournaments. Kyle was inducted into the ACBL Bridge Hall of Fame in Philadelphia, a well-deserved honor. He had many NABC & Regional titles to his name, as well as the 2001 Bermuda Bowl.