Junior Online Training Program
In 2013 Joe Stokes revitalized the USBF Junior Program, after which Michael Rosenberg, Barry Goren, and Debbie Rosenberg started the USBF Junior Online Training Program.  Currently Joe is the Junior Coordinator for the USBF, and Michael organizes and runs the online training.  About 130 Juniors are currently in the training program; they practice weekly on BBO, usually on Sunday or Monday evenings.  Each group of 4-8 juniors works with a mentor, who watches the play and provides feedback after the sessions.
To join the USBF Junior Training Program, click here.
The training program couldn't happen without the support of our mentors.  We are very grateful for their help with the juniors.   As of May 2020, Regular Online Training mentors include:
| | | | |
| --- | --- | --- | --- |
| Craig Allen | Sam Dinkin | Alex Kolesnik | Michael Rosenberg |
| Iftikhar Baqai |  Mitch Dunitz |  Mike Kopera | Alan Schwartz |
| Craig Biddle | Will Ehlers |  Ai-Tai-Lo | Sylvia Shi |
|  Dave Caprera | Mike Gill | Kent Mignocchi |  Stan Subeck |
| David Berkowitz |  Michael Huston |  Li-Chung Chen |  Christian Jolly |
| Adam Grossack | Glenn Milgrim | Brian Platnick | Aaron Silverstein |
| Karen Walker | Will Watson |   |   |
 USBF Members who have volunteered to help or to play with and against Juniors online, providing wonderful feedback to our developing players:
 Jeff Aker

 Karen Allison

 Kevin Bathurst

 Steve Bloom

 Bart Bramley

 Migry zur Campanile

 Tom Carmichael

 Drew Casen

 Larry Cohen

 Gary Cohler

 Lynn Deas

Nik Demirev

Bob Hamman

Kevin Fay

Steve Garner

Fred Gitelman

Robb Gordon

Christal Henner

Yul Inn

Dale Johannesen

Lynn Johannesen

Ralph Katz

John Kranyak

Roger Lee

Geoff Hampson

Jill Levin

Chip Martel

Karen McCallum

Alan Miller

Brad Moss

Jack Oest

Beth Palmer

Rich Pavlicek Jr.

Sue Picus

Jennifer Richter

Barry Rigal  

Kathy Rolfe

Debbie Rosenberg

Aviv Shahaf

Barnet Shenkin

Ron Smith        Mel Colchamiro    

JoAnna Stansby    

Cenk Tuncok     Dan Zagorin 

Howard Weinstein

Roy Welland

Adam Wildavsky

Kevin Wilson

Sheri Winestock

Dan Wolkowitz

Kit Woolsey

Joel Wooldridge

Jeff Meckstroth
Thank you all for your time, effort & enthusiasm with this project! And of course, as always, a HUGE thank you to BBO for providing an environment where players from around the country can play together and help aspiring players improve. And also a major THANK YOU to USBF Junior Coordinator, Joe Stokes, without whose energy and enthusiasm this project would never have gotten off the ground.
Details
GOODBYE JOAN - WE'LL MISS YOU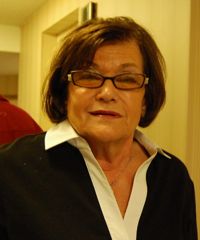 We learned from her husband, Ron Gerard, that former USBF President Joan Gerard passed away early on the morning of April 5th. Joan was a member of the USBF Board from 2007 through 2012, and President from 2011-2012. She was also the USBF Meeting Planner for her entire term on the Board and continued in that role this year. We will miss her cheerful, efficient support, and extend our sympathy to her husband Ron.
Details
World Youth Open Bridge Championship in Atlanta
The WBF, with support from ACBL, USBF, MABC, ACBL District 7, ACBL District 9, as well as private donors, will hold the 3rd World Youth Open Bridge Championship in Atlanta this summer. The complete schedule of play is posted on the WBF website.
Thanks to the generous support of MABC and District 7, all participants will be provided with lunch and dinner each day. Entries are due by July 1, although the organizers will try to accommodate late entrants. All players must be born in 1988 or later; there are no residence or nationality requirements.
For more information about the tournament and USBF/ACBL support for teams, see the Junior section of this website. We hope to see many young players at this exciting World Championship event.
Details
Board Member Cheri Bjerkan Honored
USBF Board member Cheri Bjerkan was honored recently with Chicago's (Unit 123) Harmon Wilkes Award. The Award recognizes a unit member who displays outstanding sportsmanship and who contributes to the preservation and development of duplicate bridge and the maintenance of its good reputation. Congratulations, Cheri!
Details