2016 USBF Election - Mea Culpa & Nominating Committee Slate
When I (Jan) listed the USBF Board members on the website at the beginning of 2016, I erroneously listed Bob Katz' term as expiring 12/31/2016, although he had just been reelected to the Board for a 3 year term ending in 2018. Unfortunately, no one noticed the error and therefore when the time came for this year's election, we thought there were 3 vacancies on the Board for the 3 year term commencing 1/1/2017, although there were in fact only 2.
The Nominating Committee met, interviewed candidates for the Board and nominated three of them.
When the error was discovered, one of the three nominees graciously withdrew his name so there would be no need for a contested election unless a candidate filed a petition to be on the ballot.
The two Nominating Committee candidates for the USBF Board of Directors' terms commencing on 1/1/2017 are Dave Caprera & Marty Fleisher.


| | |
| --- | --- |
| | |
| Dave Caprera | Marty Fleisher (Currently on Board) |
Brief Statements from the Candidates:
Dave Caprera:
I am a semi-retired tax lawyer living in Denver Colorado. I have14,000+ masterpoints, serve as the District 17 disciplinary chair, previously served on the National Appeals Committee (when they had such a thing), and write a monthly column for the ACBL Western Conference Newsletter entitled "Sleeping on the Couch." Two years ago in Istanbul and this summer in Salsomagiorre, I was a coach for the US Junior under 21 team, and am actively involved with the junior program. If elected, my principal interests are the junior program (else, "the game will die when we do") and (given my tax law background) the laws and their revision.
Marty Fleisher:
I've been an attorney for more than 30 years and a bridge player (much) longer than that. I've also been active in the investment/financial world for about 10 years , which is about the same amount of time I've been playing very seriously I am just completing my first 3-year term on the board and am looking forward to my second.
In accordance with the USBF Bylaws as clarified in the Election Procedures, additional candidates, who should review the Board Member Expectations document, may be added to the slate by petition, as follows:
4. Petition Candidates
Active Members in good standing may be added to ballots by petition. A valid petition application form requires twenty-five (25) Active Member signatures. Petitions must be received at USBF headquarters no later than twenty (20) days prior to the ballot mailing date.
The ballot mailing date is November 24th so the last day to submit a nomination Petition is November 4th.
If there are no petition candidates, the two candidates nominated by the Nominating Committee will be elected without need for voting.
Details
2016 USBF Election
This Fall the USBF will conduct an election to fill 2 seats on its Board of Directors. The seats are for a three-year term commencing January 1, 2017.
USBF Board members must be currently active USBF members, having paid the 2016 annual active or resident member dues of $50.
This year we sought nominations through Bridge Winners and the USBF Nominating Committee has met and interviewed potential Board candidates. The Nominating Committee slate will be posted shortly.
In addition to those candidates nominated by the nominating committee, candidates may be nominated by petition. Twenty-five or more Active or Resident Members of USBF may nominate an Active or Resident Member for a Board position. To file a petition nominating a candidate, This email address is being protected from spambots. You need JavaScript enabled to view it. with the name of the candidate and the names and email addresses of the people making the nomination on or before October 25, 2016. If there are no petition candidates, the candidates nominated by the Nominating Committee will either be elected without the need for an election (if there are only two nominees), or will be the entire slate of nominees for the election.
See the election timeline below for when things happen. Download the Election Procedures and Board Member Expectiations for more complete information about the election
Any Active USBF member interested in being on the ballot who has not been nominated by the Nominating Committee should go to About USBF and read the final paragraph on the page (Election Information), which directs you to the relevant documents.
ACTION
Relation to BMD*
Date
Week Day
Nominating Committee reports to
Elections Committee
31 Days before BMD
10/24/16
Monday
Nominations Close
30 Days before BMD
10/25/16
Tuesday
Last Day for Petition Candidates
20 days before BMD
11/4/16
Friday
Eligible Voter List Posted on Web site**
15 days before BMD
11/9/16
Wednesday
Last day to protest voter list**
7 days before BMD
11/17/16
Thursday
Ballot Mailing Date (BMD)**
11/24/16
Thursday
End of voting period**
12/24/16
Saturday
Announce Results
1/1/17
Sunday
Last Day for protest of election

10 days after results announced

1/11/17
Wednesday
* BMD = Ballot Mailing Date
** Necessary only if more candidates are nominated than there are positions open.
Details
World Bridge Games Gold for US Women & Seniors
Congratulations to the USBF Women's & Senior teams who won gold medals in the 2016 World Bridge Games in Wroclaw, Poland.
The Women's team: Lynn Deas, Beth Palmer, Kerri Sanborn, Janice Seamon-Molson, Sylvia Shi, and Tobi Sokolow, with David Sokolow as NPC, finished the Round Robin in second place in their group, and went on to win all of their KO matches by substantial margins (91 IMPs in the Round of 16, 35 in the Quarterfinals, 29 in the Semifinals and an impressive 74 over France in the Finals). The team dedicated their win to Juanita Chambers, who was on the team for the Women's USBC, but died before this event took place.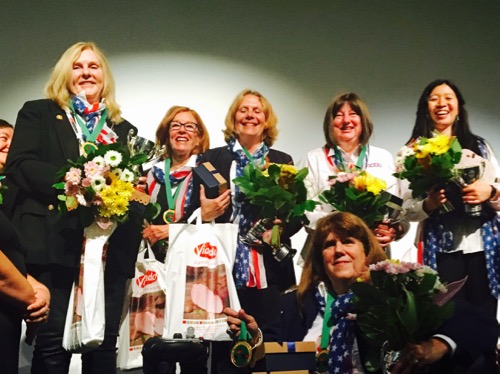 Receiving their medals: Kerri Sanborn, Tobi Sokolow, Janice Seamon-Molson, Lynn Deas, Beth Palmer, Sylvia Shi
The Senior team: Bob Hamman, Hemant Lall, Zia Mahmood, Chip Martel, Jeff Meckstroth, and Reese Milner, with Petra Hamman as NPC and Jacek ("Pepsi") Pszczola as coach, finished the Round Robin in first place, won their Round of 16 match by 172, their Quarterfinal match by 30, their Semifinal match by 92 and their Final match (also against France) by 38.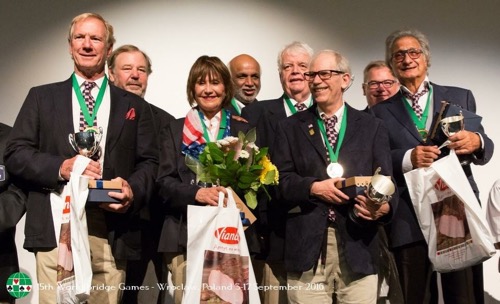 Receiving their medals: Reese Milner, Jeff Meckstroth, Petra Hamman, Hemant Lall, Bob Hamman, Chip Martel, Pepsi Pszczcola, Zia Mahmood
The USBF Mixed team (Brad Moss, Sylvia Moss, Alex Ornstein, Sue Picus, Michael Seamon, and Sheri Winestock, with Philip Alder as NPC, finished in fourth place.
The USBF Open team (Kevin Bathurst, John Diamond, Eric Greco, Geoff Hampson, Justin Lall, and Brian Platnick, with NPC Oren Kriegel) lost a contentious match to Spain in the Round of sixteen.
Congratulations to all of our teams in Wroclaw!
If you're wondering about the shopping bags in the player's hands, those contain a gift of Polish sausage :-)
Details
Martel to Replace Lair on Senior Team for 2016 World Bridge Games
Mark Lair has withdrawn from the Senior Team that won the Senior USBC and was nominated to represent the USBF in the 2016 World Bridge Series in Wroclaw, Poland. In accordance with USBF General Conditions of Contest requirements when a player withdraws, the USBF Credentials Committee and USBF Board have reaffirmed the nomination of the remaining members of the team as the USA team for the Senior Teams in Wroclaw and have also approved the team's request to add Chip Martel to the team, to play with Bob Hamman.
GOOD LUCK TO YOU and to our other teams in Wroclaw!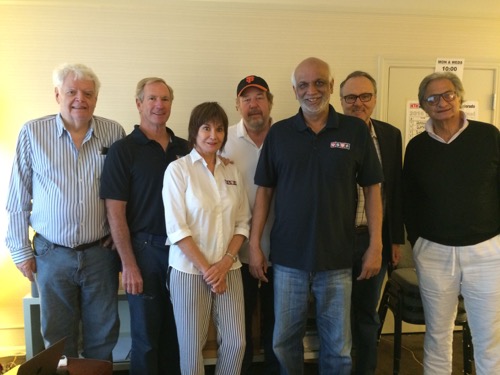 Bob Hamman, Reese Milner, Petra Hamman (NPC), Jeff Meckstroth, Hemant Lall, Mark Lair, Zia Mahmood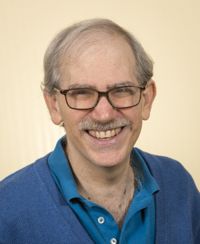 Chip Martel
Details