CONGRATULATIONS Kaplan Team, USA1 for the 2020 Patiño Cup
The team captained by Adam Kaplan (Ben Kristensen, Kevin Rosenberg-Zach Grossack, Arjun Dhir-Yichen Yin) led from start to finish in the 2019 Michael Seamon Junior United States Bridge Championship Under 26 division, winning the Round Robin by almost a full match and defeating the Xu team in the SemiFinals and the Hallerman team in the Final by over 80 IMPs. They will be USA1 for the Under 26 division at the 2020 World Youth Bridge Team Championships, to be contested in Salsomaggiore, Italy in August.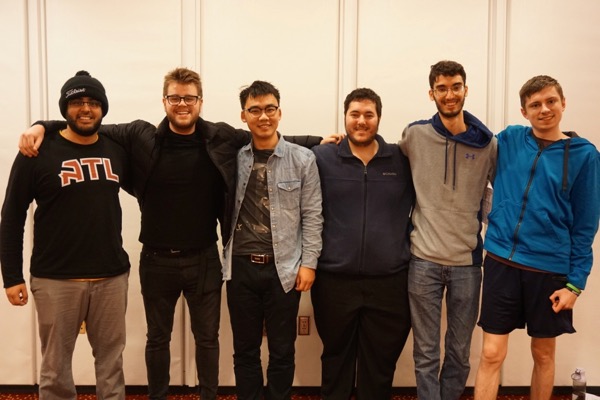 Arjun Dhir, Zach Grossack, Yichen Yin, Adam Kaplan, Kevin Rosenberg, and Ben Kristensen, photo by Min Bai
Details
2020 World Bridge Games Scheduled
The WBF has announced the location and dates for the 2020 World Bridge Games (formerly the Olympiad):
The WBF Press Release:
I am very pleased to let you know that the 2020 World Bridge Games will be held in Salsomaggiore Terme, Italy. The Opening Ceremony will be held on Friday 21st August and the Closing Ceremony will be on Friday 4th September.

As you will be aware, the event is for National Teams (one per WBF Member Country) and National Pairs (for which there is no specific quota).

More details will be sent out in January and will, of course, be on the website at
www.worldbridge.org
Details
Board Action Regarding 2020 USBCs
At its meeting on December 2nd, 2019, the USBF Board of Directors adopted the Conditions of Contest for the 2020 USBCs, making the following determinations:
1. The Women's USBC will be named the Beth Palmer Women's USBC in memory of deceased USBF Board member Beth Palmer.
2. A player who enters 2 or more USBCs must This email address is being protected from spambots. You need JavaScript enabled to view it. within one week of entering the second event, which World Championship event s/he will compete in if s/he qualifies for more than one, and will be required to play in the designated World Championship event, absent special approval from the USBF Credentials Committee to withdraw. NOTE: there is no change to the rule that a player who wins the Open USBC is not eligible to enter a subsequent USBC.
Final Conditions of Contest for all of the 2020 USBCs are now linked to the individual event pages accessible under the Tournaments Menu.
Details
2019 Board Election Report
| | | | |
| --- | --- | --- | --- |
| | | | |
| Lynn Baker | | Huub Berbens | David Caprera |
There were no petition candidates for the three USBF Board of Directors positions open this year, so Lynn Baker, Huub Bertens & David Caprera, who were nominated by the USBF Nominating Committee, have been elected to serve on the Board starting on January 1, 2020. Baker & Bertens will serve 3 year terms, Caprera will serve a 2-year term. Congratulations & welcome to the Board.
Details