Schedule for 2019 Mixed & Senior USBCs Changed
In response to concerns about the dates we had scheduled for the Mixed USBC (it overlapped the European Mixed Team event and started on Shavuous, an important Jewish holiday), we have moved the Mixed USBC to May 22-29 starting 2 days after the end of the Open USBC & 1 day after the end of the Women's USBC. The Senior USBC will now start on Friday, May 31st and end on Sunday, June 9th, after one session of play.
We also had the option of moving the Women's USBC to overlap the Seniors instead of the Open. Having polled the women who played in the latest Women's USBC and a few others who asked to vote, we have left the Women's dates for 2019 unchanged - the Women's starts on May 14th, opposite the Open Quarterfinal and ends on May 20th.
We were able to make this change thanks to our DIC, Mckenzie Myers, being willing to work all of the USBCs in a row with only a day off in between, instead of taking a week off and working a Memorial Day Regional and the Schaumburg Hyatt Regency's willingness to be flexible about our dates. Thank you!
2018 USBF Board Election
This Fall the USBF will conduct an election to fill 3 seats on its Board of Directors. The seats are for a three-year term commencing January 1, 2019.
USBF Board members must be Active USBF members, having paid the 2018 annual active or resident member dues of $50.
This year we have sought nominations through Bridge Winners, and the USBF Nominating Committee will meet and interview potential Board candidates. The Nominating Committee slate will be posted shortly after November 1st. If you are interested in being nominated, please This email address is being protected from spambots. You need JavaScript enabled to view it., the chair of the Nominating Committee.
In addition to those candidates nominated by the nominating committee, candidates may be nominated by petition. Twenty-five or more Active or Resident Members of USBF may nominate an Active or Resident Member for a Board position. To file a petition nominating a candidate, This email address is being protected from spambots. You need JavaScript enabled to view it. with the name of the candidate and the names and email addresses of the people making the nomination on or before November 30, 2018. If there are no petition candidates, the candidates nominated by the Nominating Committee will either be elected without the need for an election (if there are only three nominees), or will be the entire slate of nominees for the election.
See the election timeline below for when things happen. Download the Election Procedures and Board Member Expectiations for more complete information about the election
Any Active USBF member interested in being on the ballot who has not been nominated by the Nominating Committee should go to About USBF and read the final paragraph on the page (Election Information), which directs you to the relevant documents.
ACTION
Relation to BMD*
Date
Week Day
Nominating Committee reports to
Elections Committee
31 Days before BMD
11/19/18
Monday
Nominations Close
30 Days before BMD
11/20/18
Tuesday
Last Day for Petition Candidates
20 days before BMD
11/30/18
Friday
Eligible Voter List Posted on Web site**
15 days before BMD
12/5/18
Wednesday
Last day to protest voter list**
7 days before BMD
12/13/18
Thursday
Ballot Mailing Date (BMD)**
12/20/18
Thursday
End of voting period**
1/6/18
Saturday
Announce Results
1/7/18
Sunday
Last Day for protest of election

10 days after results announced

1/17/18
Wednesday
* BMD = Ballot Mailing Date
** Necessary only if more candidates are nominated than there are positions open.
Congratulations USBF Winners in Orlando World Bridge Series
Mixed Team Gold went to the MANFIELD team: Melanie Manfield-Bill Pettis, Beth Palmer-Bill Cole, and Debbie & Michael Rosenberg.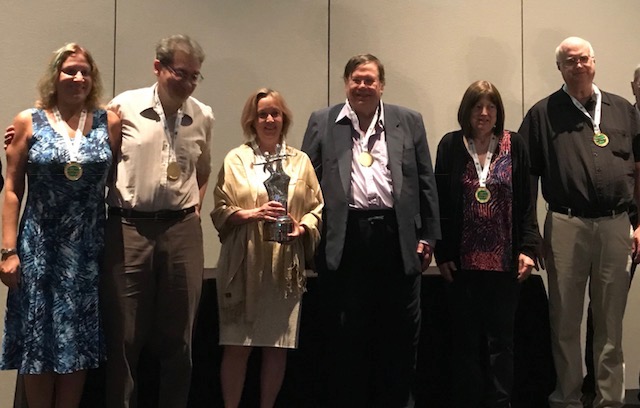 Debbie Rosenberg, Michael Rosenberg, Melanie Manfield, Bill Pettis, Beth Palmer, Bill Cole. Photo by Margot Hennings
Mixed Teams Silver went to Alison Wilson, Chris Willenken, Rico van Prooijen, Sally Brock, Machda Ticha and Richard Ritmeijer.
Mixed Teams Bronze went to Barbara Ferm, Bas Drijver, Daniela van Arnim, Sjoert Brink, Christina Lund Madsen and Simon de Wijs.
Mixed Pairs Silver went to Petra Hamman & Hemant Lall.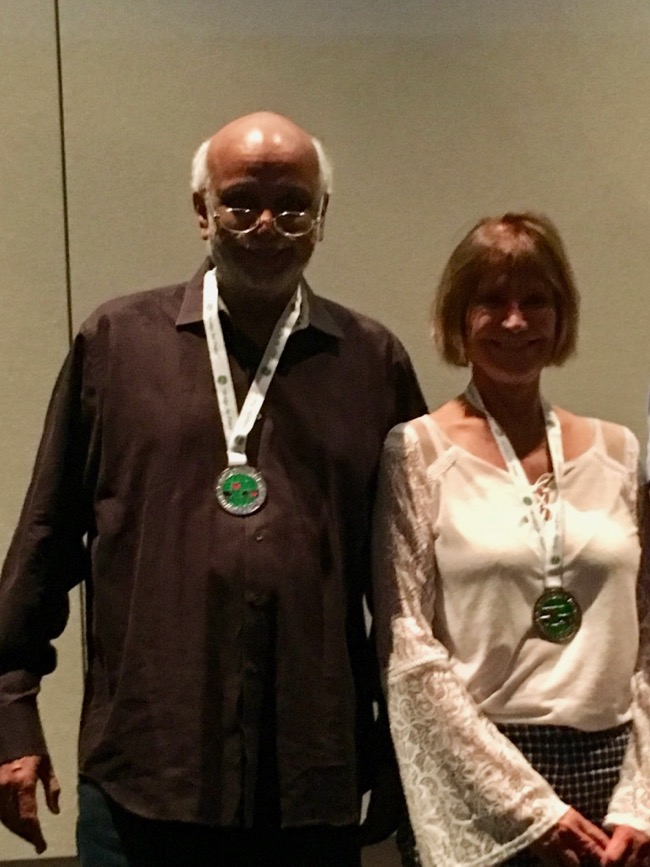 Mixed Pairs B Final Bronze went to Nanette Noland and Mike Passell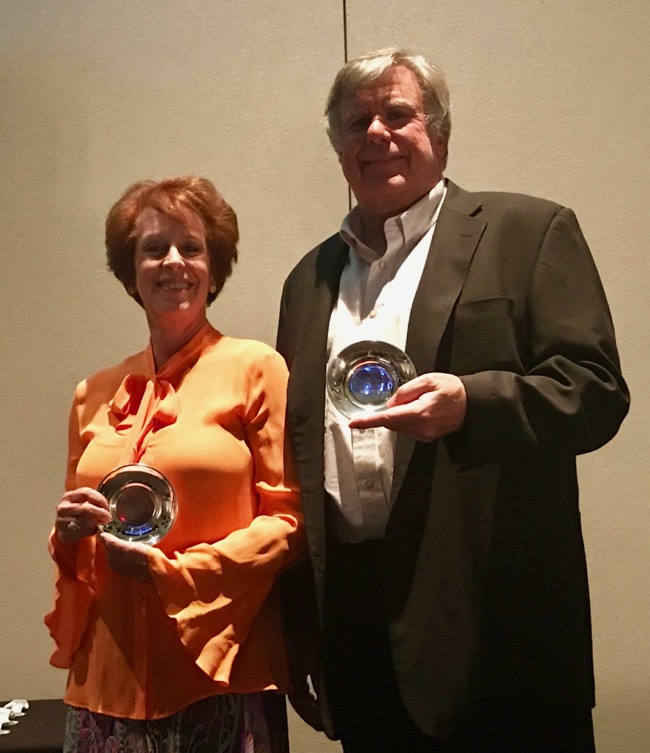 Women's Team Gold Went to the BAKER team: USBF members Lynn Baker, Karen McCallum, Irina Levitina and Kerri Sanborn, with English Players Sally Brock and Fiona Brown, and USBF member Beth Palmer as NPC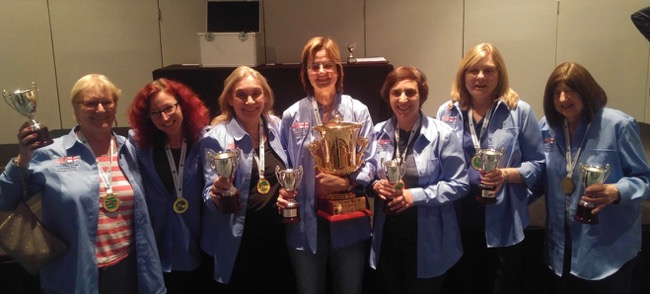 Sally Brock, Fiona Brown, Karen McCallum, Lynn Baker, Irina Levitina, Kerri Sanborn, Beth Palmer.
Rosenblum Bronze went to SPECTOR team: USBF Members Warren Spector-Gavin Wolpert, Vince Demuy-John Kranyak, John Hurd-Joel Wooldridge
Rand Senior Teams Gold went to MILNER team: USBF Members Hemant Lall-Reese Milner, Steve Garner-Mark Lair, with Monacan Krzystof Martens & Pole Michal Kwiecien; USBF Members Petra Hamman, NPC and Jacek Pszczola, Coach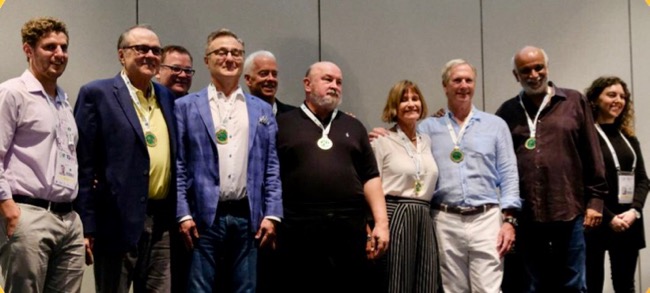 Mark Lair, Jacek "Pepsi" Pszczola, Michal Kwiecien, Steve Garner, Krzystif Martens, Petra Hamman, Reese Milner and Hemant Lall are flanked by Nissan Rand's grandchildren, who presented the trophy to them.
Rand Bronze went to WOLFSON team: USBF Members Jeff Wolfson-Michael Rosenberg, David Berkowitz-Bob Hamman, Bart Bramley-Kit Woolsey.
Senior Pairs Gold Went to Marc Jacobus and Mike Passell;
Senior Pairs Bronze Went to Mark Itabashi and Eddie Wold
Open Pairs Silver Went to Joe Grue and Brad Moss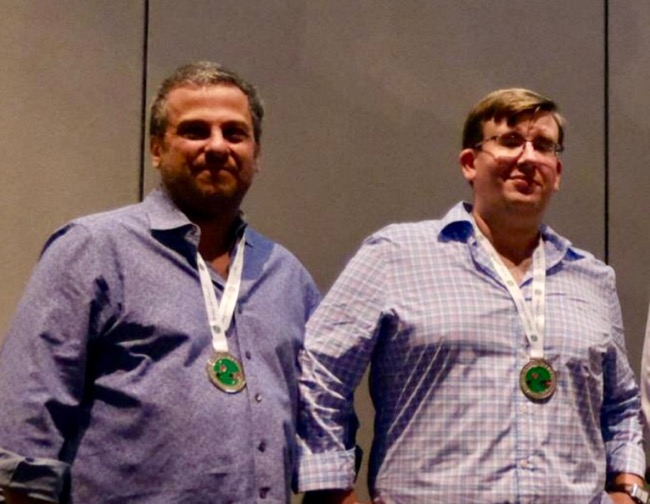 Brad Moss, Joe Grue
Women's Pairs Silver Went to Candace Griffey and Kathy Sulgrove

Candace Griffey, Gianarigo Rona, Kathy Sulgrove