MINOR CHANGE TO 2023 MIXED AND SENIOR USBC SCHEDULES
Last year, when we qualified eight teams for the face to face stages of the USBCs, we were unhappy that we needed to have the USA2 Quarterfinal and Semifinal matches be only 1 day long each. Not surprisingly, many of the players were also unhappy with that - we all prefer longer matches. Thinking about next year's Mixed and Senior USBCs and discussing with several very helpful players, we finally came up with a format that adds only one day to each event and extends the USA2 Quarterfinal and Semifinal to 1-1/2 days (90 boards) each. Here's what it looks like:
Days 1 & 2 are the USA1 Quarterfinal KO. The winners advance to the USA1 Semifinal, the losers drop into USA2.
Days 3 & 4 are the USA1 Semifinal and USA2 Stage 1. Both are 4 team KO's.
Day 5 and half of day 6 is the start of the USA1 Final, and all of the USA2 Quarterfinal, which has 4 teams.
The second half of day 6 is the end of the USA1 Final, and the start of the USA2 Semifinal (2 teams).
Day 7 is a rest day for the losing USA1 Finalist, unless both USA1 Finalists choose instead to spread the 8 segments of the Final over 3 days; and the end of the USA2 Semifinal.
Days 8 & 9 are the USA2 Final.
Changing the Mixed and Senior USBCs to this format means that the Mixed will end one day later than was previously scheduled, and the Seniors will start one day later and end 2 days later than previously scheduled. The dates and format of the Open and Women's are unchanged. Here's the revised calendar for all 4 events: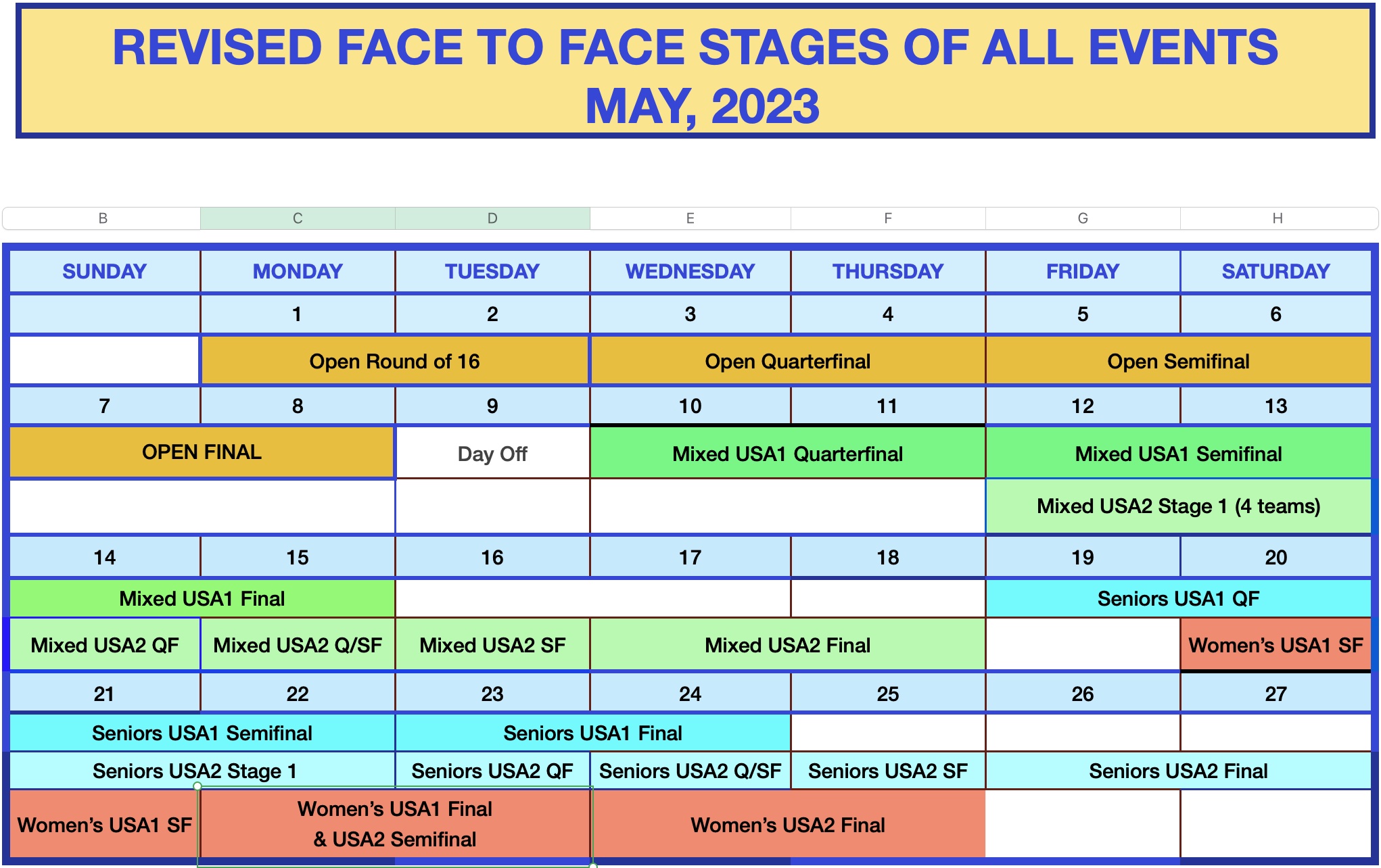 Details
CONGRATULATIONS TO JLALL7 WINNERS - LALL & SPRUNG
bracket 1 winners - lall
This JLall was essentially a double elimination event and Lall never lost a match on their way to winning Bracket 1. The team was 5-handed, with Venkatrao Koneru and Jim Krekorian playing as a pair throughout and Hemant Lall playing half with Reese Milner and half with Michael Penick. Playing every board for five long days was a real test of stamina. In the final, Lall beat Levine (Passell, Berkowitz-Meckstroth, Rodwell-Wold, NPC Morris) 129-91; the second quarter was an amazing 74-2 for Lall.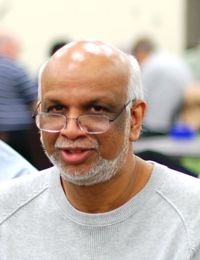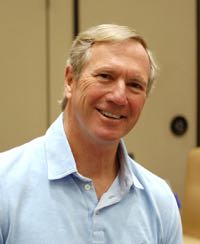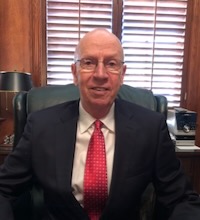 Hemant Lall Reese Milner Michael Penick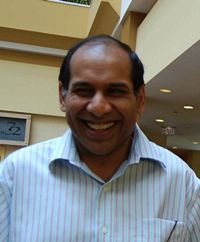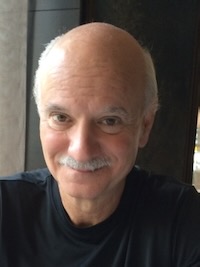 Venkatrao Koneru Jim Krekorian
bracket 2 winners - sprung
The Sprung team (Sprung-Clayton, Baseggio-Freeman, Bramley-Hessel) lost a close Bracket 1 Semifinal match to Lall, finished second in the 3-way USA2 Semifinal to advance to the Final, and closely defeated Lo (Lo-Chechelashvili, Chorush-Alex Kolesnik, Milgrim-Rigal, with substitutes Jiang Gu and Rick Zucker when only 3 team members were able to play) 65-64 in a shortened USA2 Final in which the Lo team picked up 14 IMPs on the penultimate board to come within 1.
Details
USBF MEDALISTS IN WORLD BRIDGE SERIES
Another World Championship for Nickell Team!
Congratulations to the Nickell team on winning the 2022 Rosenblum Teams in Wroclaw, Poland. Nickell (for anyone who doesn't know them: Nick Nickell-Ralph Katz, Eric Greco-Geoff Hampson, and Bobby Levin-Steve Weinstein, NPC Jill Levin) won a hard-fought final over Ventin (Ventin-Wrang-Palma-Pacareu, Mendes de Leon-Sprinkhuizen) 186-164 with a blazing 51-19 final segment, after defeating Team Black (Black-Bertheau, Hallberg-Hult, McIntosh-Paske) 118-115 in the Semifinals.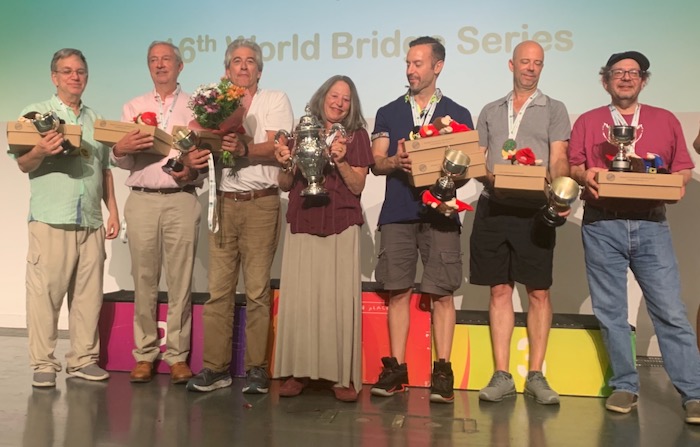 Ralph Katz, Nick Nickell, Bobby Levin, Jill Levin, Eric Greco, Geoff Hampson, Steve Weinstein.
Photo by Stan Subeck.
Congratulations also to the mostly USBF Robinson team (Robinson-Korbel, Berkowitz-Meckstroth, Gold-Zia) who lost to Ventin in the Semifinals to finish tied for third and a bronze medal.
McConnell Medals for USBF players:
In the McConnell Cup (women's teams), with a small but very strong field, Baker (Baker-McCallum, Brock-Brown, Meyers-Sanborn) tied for third, and five other USBF members won medals: Joan Brody & Sandra Rimstedt, Gold; Disa Eythorsdottir & Janice Molson, Silver; Jodi Edmonds & Irina Levitina, Bronze.
USBF Gold & Bronze in the Women's Pairs
Jill Meyers and Kerri Sanborn took home the second USBF Gold Medal from Wroclaw in the Women's Pairs, adding to both players' amazing collection of gold medals - if I counted correctly, this was Jill's eighth and Kerri's eleventh World gold medal.
Disa Eythorsdottir and Janice Molson won Bronze.
Rand Silver Medal & Senior Pairs Bronze:
In the Rand Senior Bowl, the all-USBF Goodman team (Goodman-Lair-Passell, Berkowitz-Meckstroth) lost a close final to the mostly Polish Vytas team, to win Silver, after defeating the Zimmermann team in the Semifinals.
David Berkowitz and Jeff Meckstroth won Bronze in the Senior Pairs.
USBF Medals in Mixed teams & Pairs:
In the Mixed Teams, Barbara Ferm won Gold, Joe Grue and Gillian Miniter won Silver, and Kevin Dwyer and Sandra Rimstedt won Bronze.
Chris Willenken won Bronze in the Mixed Pairs.
Details
CONGRATULATIONS TO JLALL6 WINNERS - FERRO
After an exciting Final match that ended in a tie, requiring a 6-board playoff, FERRO (Ferro-Holtz, Gumperz-Rathi, Ornstein-Rogoff) defeated LALL (Lall-Clayton, Bramley-Woolsey) by 7 IMPs. Congratulations! The Playoff boards are not yet available on the RealBridge kibitz site, but they are available here.
JLall7 will be this fall, after the Summer NABC and the World Championships - as soon as we have dates and format available, we'll post information. Meanwhile, if you've played in a JLall event, you will get a link to a poll about future JLall events - we'd appreciate your feedback.
Details